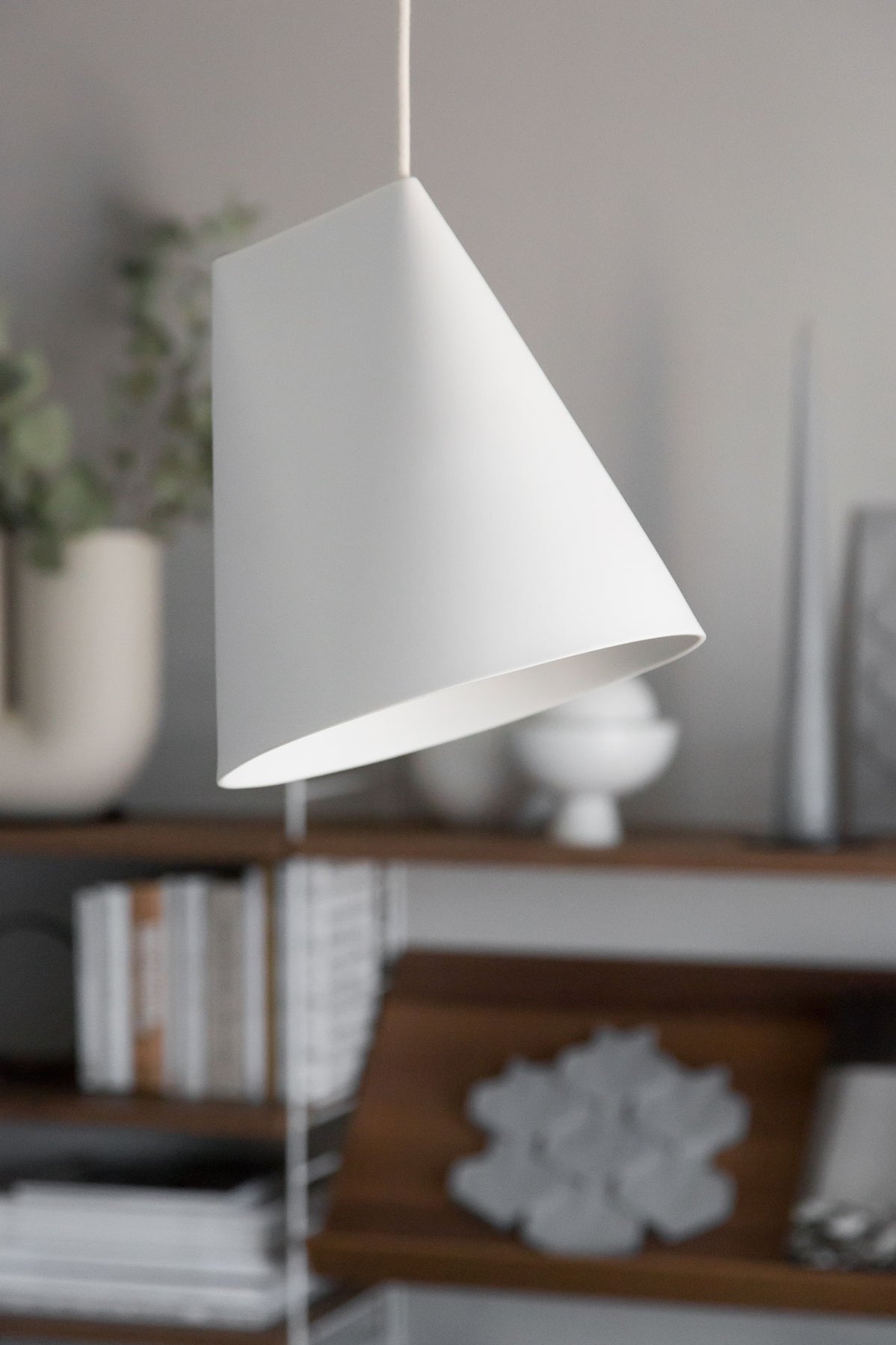 Moebe is a Danish design studio that creates minimal and inventive interior products and furniture. Since their establishment, we at w/ Style are a huge fan and happy to work with them regularly. Moebe presents a few new designs yearly. I like to show you two of them in this post.
Ceramic Pendant Wide

The Ceramic Pendant comes in two sizes: Narrow and Wide. Both sizes are available in white. Yet now also in olive, light grey and warm terracotta. The pendant is minimal in design, handmade and left unglazed. Because of that, the surface of the lampshade is raw. I really like that detail. It provides every pendant its unique character, both on and off. I also love the fact that you can change the expression. The shade is rectangular at the top and sits freely to the cord. It makes it easy to angle the shade left, right or illuminate directly. I used a single piece in my living room, it provides atmospheric light. Both the Narrow and Wide versions are also beautiful grouped. If you like to see more of the Narrow Ceramic Pendants, check Vosgesparis blogpost on this.
Storage Box
Als new to the collection is the Storage Box, which is not only a box. It also can be used as a small side table or bedside table, they are even stackable. The design is component-based and arrived flat packed. It was very easy to assemble the box without any tools. I find all the Moebe designs always so clever. The panels are made of oak veneer, the two powder-coated black steel frames give the Storage Box extra character. Whilst also serving as handles to carry the box around. I can't choose how to use the wooden box permanently yet, it is so versatile I'd like it in all of my rooms.
Clever and Durable
Even great quality products break. So all Moebes designs are component-based and can be assembled, repaired and recycled. They will launch an online store for spare parts so you don't have to replace a whole product when a part breaks. Moebe doesn't only make beautiful designs, they also care about durability by creating smart products. I like that!
Photography and styling beeldSTEIL | Wen van Woudenberg

In collaboration with Moebe