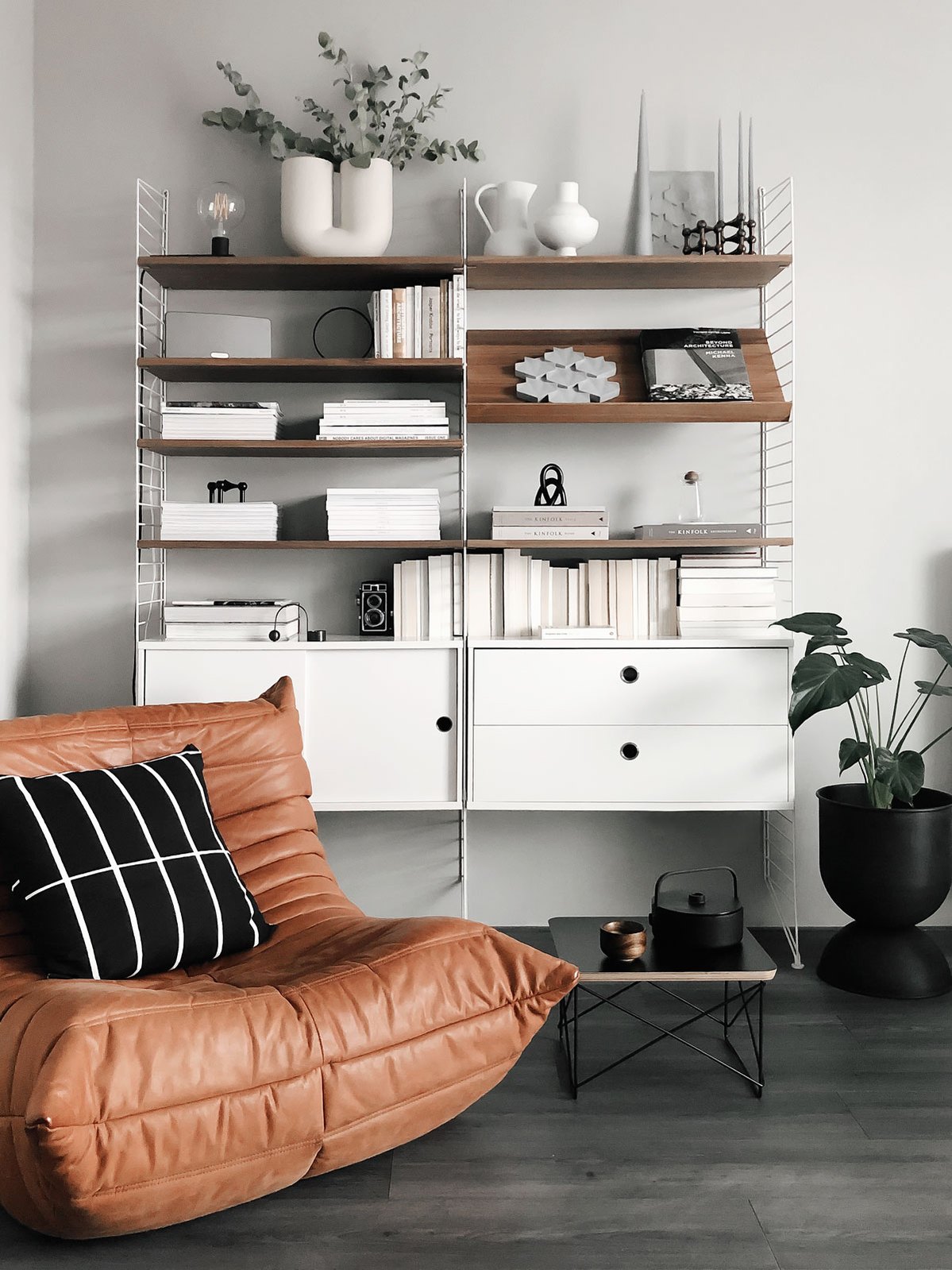 A true design classic adds character to an interior. Since a view years, I'm the owner of the beautiful Togo Fauteuil by Ligne Roset. It was on my wishlist for a long time. Designed in 1973 by Michel Ducaroy and still very relevant. It fits different interior styles, from modern to classic. I love the simple clean lines of the lounge chair. And it is by far the most comfortable chair I've ever had.
Togo Fauteuil
The comfort is due to the fact that the fauteuil is filled with foam. The first piece of furniture at the time with a full foam filling. For the upholstery I chose soft cognac brown leather. It adds some warmth to my masculine Nordic style. The Togo is available in different fabrics and leather and part of the Togo collection that exists of different sofa elements and a footstool. Ligne Roset was founded in 1860, it's a French family business with a creative touch. Michel Ducary was one of their biggest designers.
LTR Side Table
The LTR Side Table perfectly fits the Togo Fauteuil. As the chair is low to the ground I also needed a low table next to it. And not too big, because I live small and like a minimal and not too filled home. Besides the size, I also found it a perfect fit because of its design. It's very compact and elegant. The Vitra LTR Side Table is a bit older than the Togo, it was designed in 1950 by Charles and Ray Eames. The finish is a black frame and a black tabletop. The brown wooden edge fits the brown leather of the lounge chair. It serves as a coffee table, storage place for magazines or favorite accessories.
On my wish list

The Cassina Zig Zag Stool was designed by Gerrit Rietveld in the 30s. As a resident of Utrecht and a lover of interior and architecture, I am very interested in the work of Rietveld. He not only designed minimalistic furniture and a home according to the principles of De Stijl. Gerrit Rietveld also had a perfect eye for details, materials and a unique vision. The Zig Zag chair was originally made for the Rietveld Schrôder House. Rietveld created several versions of fiber, steel and plywood. The final design is made from four Bruijnzeel cupboard shelves. I would not use it as a chair, but as a sculpture. Styled with books and accessories.
Photography and styling beeldSTEIL | Wen van Woudenberg

In collaboration with MisterDesign
You might also like